After an unfortunate loss against Kerala, West Bengal stormed back with an entertaining 4-3 win over Meghalaya and kept their Santosh Trophy hopes alive. 20-year-old young ATK Mohun Bagan forward Fardin Ali Molla played a pivotal role in Bengal's victory. As he earned a brace for himself and was outstanding throughout the match.
After his match-winning performance, the youngster spoke up close and personal with the Football Monk in an exclusive interview
Fardin Ali speaks
After scoring a brilliant brace against Meghalaya, the forward seemed quite grounded. "It was a must-win match for us. We were mentally prepared to give our everything to secure the victory. I wasn't getting the goals in the previous games. However, today I scored twice. Now I am feeling really well after playing a part in the win," said Fardin.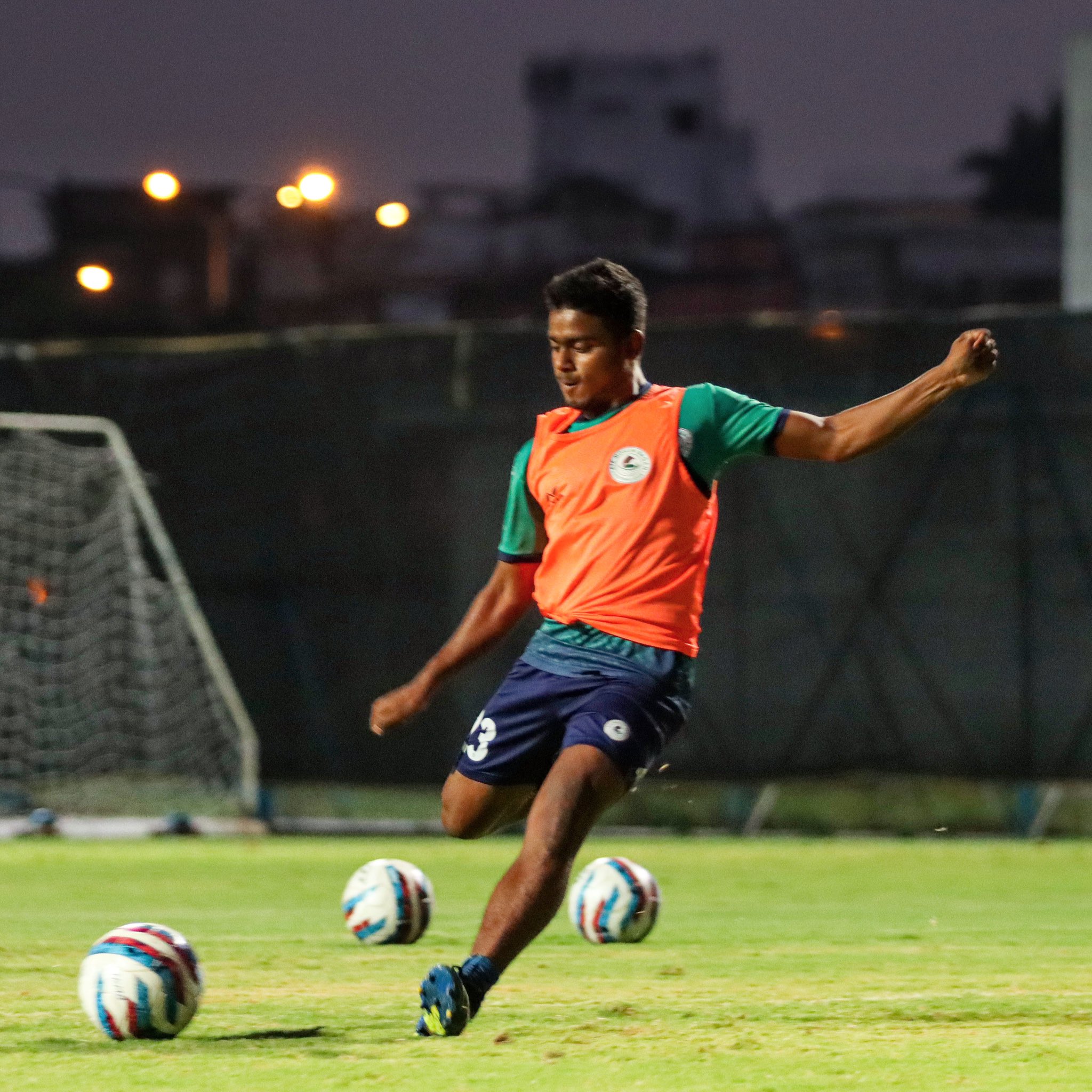 After a topsy turvy start in the group stage, Ranjan Bhattacharya's team is once again in the mix for the semi-finals. When quizzed about reactions after the match, Fardin expressed, "Sir congratulated me for scoring the goals and urged me to continue the good work. He pointed out my mistakes and asked me to be more involved in the game and help the defense during the defensive transitions."
Adapting to the wings
Fardin Ali started his career as a striker and scored a ton of goals in age-group tournaments. It was only after getting selected for Bengal that Fardin began to play in the wings.
Under Ranjan Bhattrachaya's guidance, he soon adapted to his new position. While expressing his gratitude to the Bengal gaffer, Fardin quipped, "Previously, I have not played as a winger. Sir introduced me to this position which is working really well for me. So, it is because of him I am scoring goals."
ATK Mohun Bagan coach applauds
Known for giving chances to the youngsters, ATK Mohun Bagan's Spanish gaffer Juan Ferrando reckons that Fardin is very promising and seemed very happy with his performance.
"I am excited to hear this. We have worked just two weeks with him. He is quite promising and I hope we can help him improve more and improve his talent," said the Spanish gaffer.
It comes all in the family
Son of a former footballer Farid Ali Mollah, football is in Fardin's blood. Quizzed about his father's reactions, the ATK Mohun Bagan forward said, "My father is really happy. He always supports me and points out my mistakes. Similar to the coach, he has also asked me to be more involved in the game."
After his brilliant performance in the qualifying stage of the Santosh trophy, Fardin was called up by ATK Mohun Bagan gaffer Juan Ferrando for their AFC Cup campaign. While explaining how Juan and the senior players helped him, Fardin said, "Juan sir also played me in the wing, and that helped me a lot. We have really great players in our squad."
He further added, "The senior players have helped me a lot. Pritam Kotal and Subhasish Bose always ask me to follow the coach's instructions. Manvir Singh helped me with my first touch and finishing."
On the next match
After winning the thriller against Meghalaya, Bengal will now face Rajasthan in the final match of the group stage. A win in the final group stage match will take Ranjan Bhattacharya's team to the knockout stage.
When asked about his target for the next match, the Bengal forward confidently said, "It's a must-win for us, and I will try to give my best. I scored a brace in the last, and I will try to score a hattrick in the next game."