Kerala beats West Bengal 5-4 in the penalties to win the Hero 75th Santosh Trophy Final at the Manjeri Payyanad Stadium.
LIVE Blog
Kerala are the champions as they make it 5-4 in the penalty shootout
Bengal changes keeper as Raja Barman comes in
Priyant Sing makes it 4-4 for Bengal
Jason scores and makes it 4-3 for Kerala
Tanmoy makes it 3-3 for Bengal
Kerala changes keeper
Jijo Joseph makes it 3-2 for Kerala
Bablu scores for Bengal 2-2
Kerala takes the advantage and makes it 2-1 for Kerala
Sajal Bagh shoots it wide..big bad miss from the Bengal lad
Kerala Scores its 1-1 now
Dilip makes it 0-1 for Bengal
Penalty Shootout Begins
124′ Extra time is over and it moves on to penalty shootout to find the winner of the tournament
Ker 1-1 Ben
121′ It remains 1-1 as both sides are left out with just few minutes of extra time to bag a winner from open play
Ker 1-1 Ben
119′ SAVE
Priyant Singh keeps Bengal's hope alive
Ker 1-1 Ben
118′ The game seems to move towards tie breaker as the clock ticks towards the end of ET
Ker 1-1 Ben
116′ What a goal Kerala has find their long cherished equaliser.
Ker 1-1 Ben
113′ Save from Priyant
Ker 0-1 Ben
112′ Kerala is trying hard to find the equaliser
Ker 0-1 Ben
110′ Bengal player being stretched out
Ker 0-1 Ben
107′ Bengal custodian shows a fair play moment as he helps stretching of Kerala player
Ker 0-1 Ben
106′ Bengal is parking the bus at the moment as they go deep down and maintain ultra defensive mode.
Ker 0-1 Ben
Game Resumes
Ker 0-1 Ben
105′ Bengal leads at the breather of the Extra time
Ker 0-1 Ben
105′ Sent off for Bengal's Sujit as he has been handed marching orders from the bench by the referee
Ker 0-1 Ben
104′ Corner for Kerala..but nothing dangerous as it goes wide off
Ker 0-1 Ben
102′ Bengal's Nabi Hussain Khan being stretched out
Ker 0-1 Ben
101′ Bengal now has the momentum
Ker 0-1 Ben
96′ GOALLLL
Bengal takes the lead as Dilip finds the net with a header
Ker 0-1 Ben
92′ Over the bar. Jijo Joseph's shot from outside of the bar flew over the bar.
Ker 0-0 Ben
91′ The Extra Time starts.
Ker 0-0 Ben
Full Time
Here goes the final whistle as both teams are yet to be separated. Both teams missed chances after chances and we are now approaching Extra Time. Remember all three previous occasions when these two teams met in Finals went to penalty kicks.
Ker 0-0 Ben
90+3′ Chances after chances for Kerala. This time they blaze another glorious opportunity over the bar.
Ker 0-0 Ben
90 +2′ Saved! Jijo Joseph carved the Bengal defense open and found Shibil in the box. However, Shibil couldn't beat Priyant.
Ker 0-0 Ben
90′ 4 minutes have been added.
Ker 0-0 Ben
85′ Freekick for Kerala. Nothing comes out of it,
Ker 0-0 Ben
81′ We enter the final ten minutes as both the team chases the winner.
Ker 0-0 Ben
77′ Big chance for Bengal as Fardin's header from 6 yards was off target.
Ker 0-0 Ben
75′ The cooling break has been taken as we enter the final quarter of the game.
Ker 0-0 Ben
70′ Substitution for Bengal
Mahitosh Roy out
Supriya Pandit in
Ker 0-0 Ben
69′ Freekick for Bengal. Fardin's delivery was too strong for Mahitosh.
Ker 0-0 Ben
66′ Freekick for Kerala. Arjun Jayaraj's delivery was a poor one.
Ker 0-0 Ben
64′ Jesin plays a one-two goes for goal from 40 yards out. His effort wasn't on target.
Ker 0-0 Ben
62′ Chance for Bengal but saved. A brilliant move from Bengal sees Tuhin putting a brilliant delivery in the box. Midhun who fumbled to grab the ball at first somehow gathers during the second opportunity.
Ker 0-0 Ben
59′ Missed! A huge mistake by Nabi in front of the box sees Jijo Joseph getting a clear look at the Bengal goal. However, the Kerala skipper couldn't put his side ahead.
Ker 0-0 Ben
58′ Corner for bengal. Fardin's delivery in the far post finds Tanmay but his effort couldn't breach Midhun.
Ker 0-0 Ben
57′ Brilliant defending from Kerala defense evades the danger.
Ker 0-0 Ben
54′ Stoppage in the game as Kerala's captain Jijo Joseph is lying down, injured. Not a good sign for Kerala.
Ker 0-0 Ben
49′ Great build-up from Kerala as they carve past Bengal defense and puts up a brilliant delivery in the nox. However, Priyant gathers the ball calmly.
Ker 0-0 Ben
47′ Great start for Kerala in the second half. They are straightaway putting the pressure on Bengal.
Ker 0-0 Ben
46′ The second half starts.
Ker 0-0 Ben
Half Time
Throughout the first half, Bengal were really dominant and missed too many opportunities. Kerala themselves also got a few opportunities of their own, however, the goal eluded them too. Stay tuned as an electrifying second half awaits.
Ker 0-0 Ben
45+2′ Another big chance for Bengal and once again they failed to take the lead. Nabi Hussain Khan played a teasing delivery which only needed a touch. However, Fardin, Bengal's leading goalscorer in the tournament missed to tap it home.
Ker 0-0 Ben
45′ Two minutes have been added.
Ker 0-0 Ben
43′ Freekick for Kerala. Arjun Jayaraj's deliverily provided a delightful delivery but Priyant was there to gather it calmly.
Ker 0-0 Ben
38′ End to end stuff here. Mahitosh's effort was really well saved by Midhun.
Ker 0-0 Ben
35′ What a save from Priyant! Shaheefs effort was creeping in. Kerala is smelling blood here and the crowd is showing their support for the Kerala team
Ker 0-0 Ben
33′ First big chance for Kerala. Arjun Jayaraj missed the open net.
Ker 0-0 Ben
30′ Half an hour has flown past and the cooling break has been taken. After weathering the early pressure from Bengal, Kerala are now finally looking settled and with the crowd behind them, they are getting better and better.
Ker 0-0 Ben
25′ Finally a very good spell of football from Kerala as they put great pressure on the Bengal defense. However, the final delivery was missing and they are still to carve a single good chance.
Ker 0-0 Ben
23′ Missed. Dilip Oraon plays a brilliant ball from the left side but Mahitosh skewed his effort and couldn't put it on target.
Ker 0-0 Ben
21′ Long ball forward from Kerala defense and Jijo Joseph chases. However, Priyant comes brilliantly and keeps it out.
Ker 0-0 Ben
18′ Freekick for Kerala. Jijo Joseph's effort is straight to Priyant.
Ker 0-0 Ben
12′ Another corner for Bengal but once again nothing comes out of it.
Ker 0-0 Ben
10′ Back to back corners for Bengal but Kerala evaded the danger well.
Ker 0-0 Ben
7′ First effort on target from Kerala but Priyant was well behind the ball and gathered it calmly.
Ker 0-0 Ben
5′ Early pressure from Bengal and Nabi Hussain Khan's header from the corner almost found the net.
Ker 0-0 Ben
1′ Kick-Off
Ker 0-0 Ben
Santosh Trophy Preview: Kerala vs West Bengal
It will be the eastern team's 46th final overall, and they will enter this contest as favorites. In the top showdown, though, they will face a tough test from an in-form Kerala outfit.
Kerala defeated West Bengal in the first round. And Bino George's men will once again fancy their chances against the most successful team in the history of the tournament.
Meanwhile, West Bengal will look to settle the score by winning this fixture. They will also be looking to avenge their 2018 Hero Santosh Trophy final defeat, which they lost in penalties. After the game ended in a stalemate at the end of regulation time.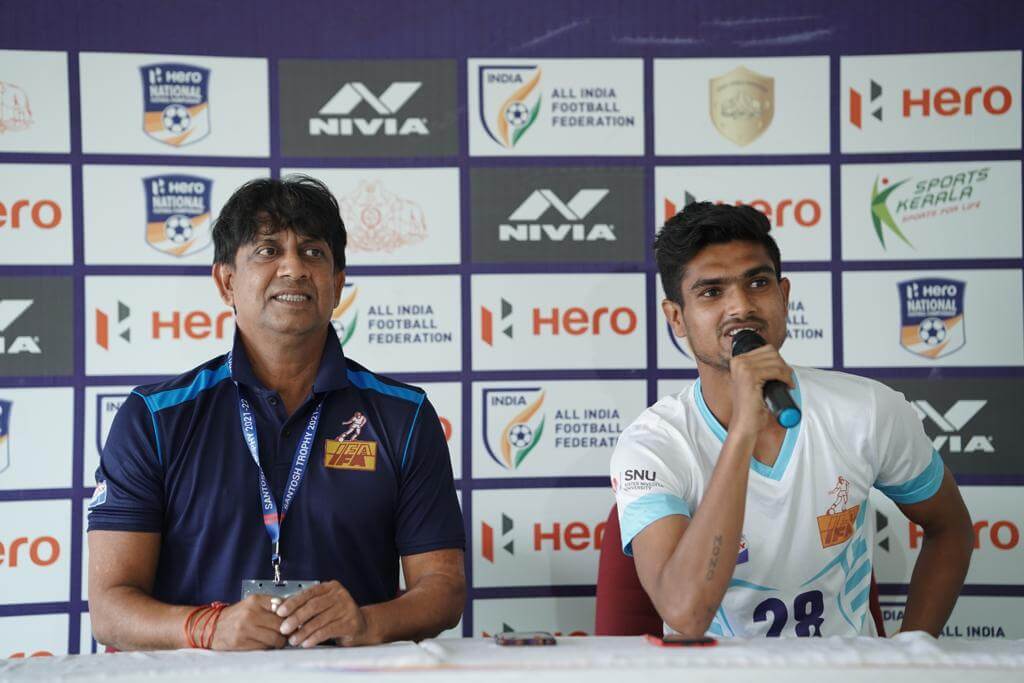 "The match between Kerala and West Bengal will be exciting, and I hope fans will tune in." West Bengal coach Ranjan Bhattacherjee said ahead of the game. "Tomorrow's game will be a competitive contest. And the team that can convert their opportunities more during the first and second halves will take the Trophy home," he added.
West Bengal captain Monotosh Chakladar said, "We were defeated by Kerala at the start of the campaign, so this game will be treated as a revenge game."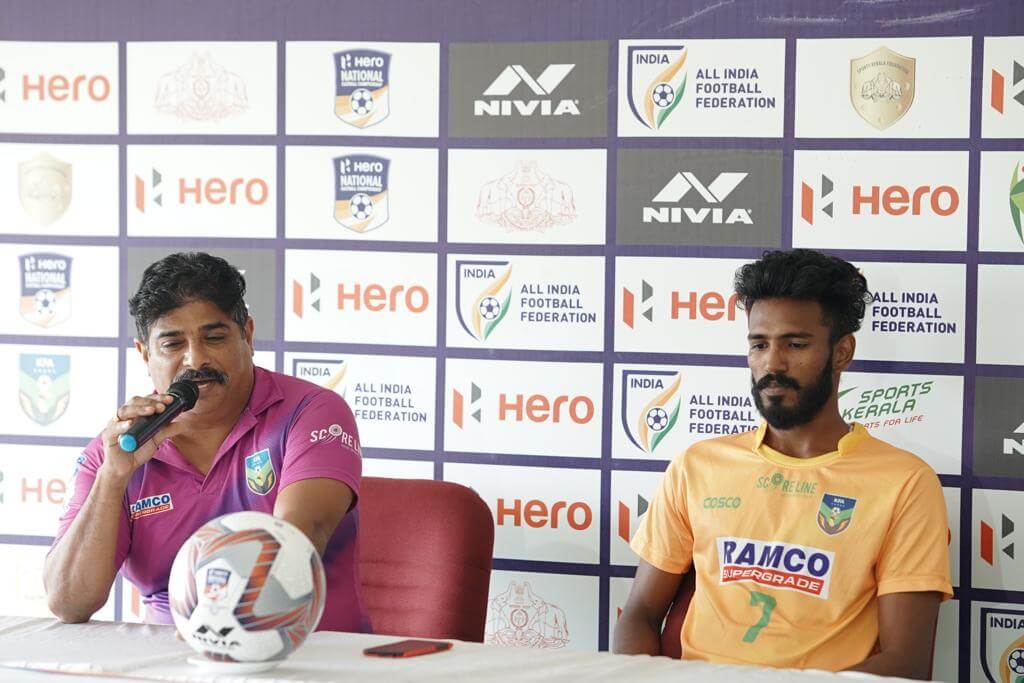 "We will consider it as a do-or-die match," Bino George Chiramal Padinjarathala remarked.
"I want to beat Bengal tomorrow and bring the trophy home for our fans, who have been supportive throughout the tournament," he concluded.
Live Streaming
The match will kick off at 8:00 PM (IST) and will be streamed live on Indian Football Facebook Page.