On March 12, 2015, 21-year-old Sandesh Jhingan stepped onto the Indira Gandhi Athletic Stadium pitch in Guwahati wearing the blue of India for the first time. A momentous occasion for the Chandigarh-born lad, and on a significant stage too – the first round of the FIFA World Cup Qualifiers against Nepal.
The young but brave Jhingan partnered Arnab Mondal in central defence for a well-earned clean sheet in a 2-0 victory during what were difficult times for the Blue Tigers, who were placed at 173, the lowest-ever rank in national team history. But tough times make tough men, and Jhingan would go on to write his name as one of the nation's best defenders of this century.
On Monday against Vanuatu in Bhubaneswar, the sturdy centre-back earned his 50th international cap. In Jhingan's language, on the 50th day he gave it his all to defend his nation's goal. In a chat with the-aiff.com, he shares his aspirations to have many more such days, thoughts on India's performance in the Hero Intercontinental Cup so far, hopes to finally win the SAFF Championship and the importance of a grand Indian show on the grand AFC Asian Cup stage next year.
Q. Congratulations on your 50th international cap Sandesh. What does this milestone mean for you? 
Jhingan: Of course, it means a lot. Every time I step onto the pitch, wear the jersey, sing the national anthem and represent my country, it's for me, personally, the greatest honour of my sporting career. 10-15 years ago, I used to watch the Indian team batch of Bob Houghton and the likes of Sunil Chhetri, Climax Lawrence and the whole team back in the day, dreaming of playing for the country one day. And now, sitting here and having made my 50th appearance, I would probably say well done to that kid who saw the dream from the streets of Chandigarh. I'm so happy for that kid.
Going forward, the sky's the limit always. I've always lived my life by this mantra. Never settle for anything, always aim higher. And yeah, the target is now 100 appearances. But one game at a time, do as much service as I can for the country, as long as I'm valuable, as long as I am providing the goods and doing well. I'll just enjoy every appearance and then let's see how long I can go.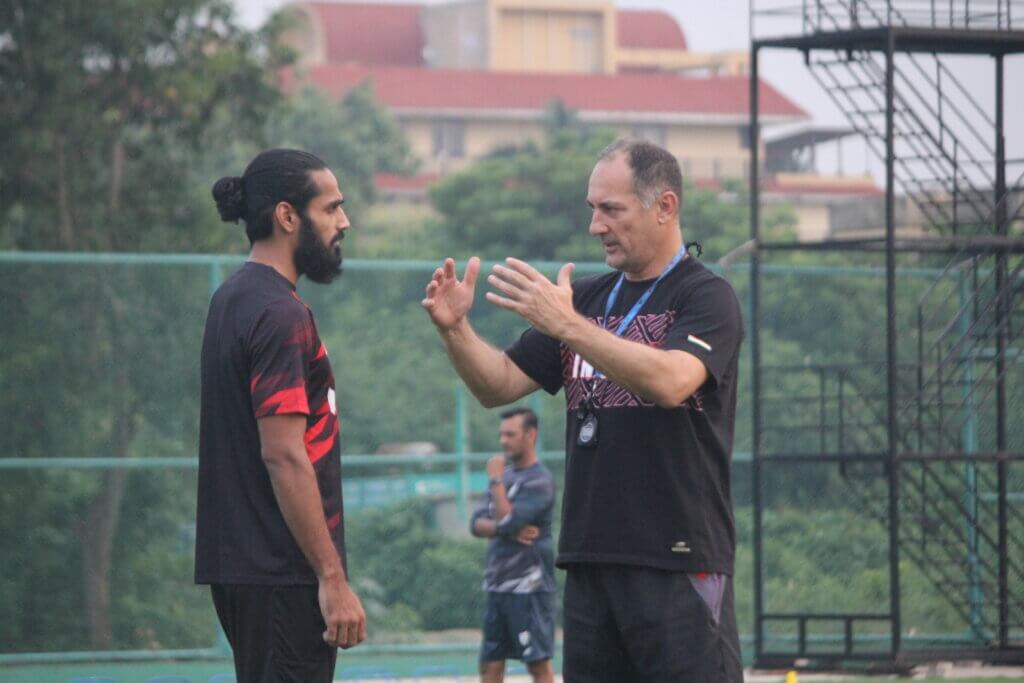 Q. In the current squad, you are also actually the second-highest top scorer after Chhetri alongside Chhangte with five goals. How much is scoring goals part of your plan on the pitch?
Jhingan: To be honest, I never take it as a priority. For me, how I bring food to the table for my family is with my clean sheets. That is how I do my job – what the coach asks me to do, what my roles are in the dressing room and on the training pitch. You need to get the system ready on the pitch when the other team is changing formations, and how you react to it. I take more pride in that, and I think that's my bread and butter.
Goals are always a bonus, I believe. Of course, you want to pitch in as much as you can. But it's not a good sign if I'm second on the top-scorers list. I would love to be at the bottom of the list and still have at least 20 goals for the country (laughs).
I would want my strikers and midfielders to have as many goals as they can have and I'll be happy keeping clean sheets and keeping the house clean. I think that builds the team's future on a very solid base. That's the way I look at it.
Q. Tell us more about your partnerships at the centre-back position. In your young career, you tied up with senior players like Arnab Mondal and Anas Edathodika. Now, you're the most senior one alongside the likes of Anwar Ali, Mehtab Singh and Chinglensana Singh. How important is it to build a stable connection at the back?
Jhingan: The only position where I feel you need a partnership is at centre-back on the pitch, regardless of how good you are individually. Usually, if you don't have a good partner with you in defence, you never reach your full potential because you always need someone at such a critical position. We are always the last line of defence, so having a good partnership is important. I've been blessed from my club days to always form solid partnerships. Of course, when I started, I was in the camp but never made my debut, we had Gouramangi (Singh) bhai and Arnab da.
When Gouramangi stepped down, I took the role of partnering with Arnab. We did well, and then Anas came in, and then Adil (Khan) bhai. People say with Anas, it was a great partnership. But it was not something we worked upon. We trained and played together and it just clicked. You don't realise how it clicks but when it clicks, you are just like, 'Oh yeah, you don't need words to communicate on the pitch'. It's just telepathic.
There have been many partners and I've enjoyed it because everyone has a different style of playing and you've got to adapt to it. This partnership doesn't come overnight. It takes a lot of training together, lots of games together to form it. Then, of course, your full-backs also play a big role. But I enjoy it. Anwar is a lovely boy. Even Sana is so good. He is not here right now, and may God bless him and his family during these tough times in Manipur.
It's good for the national team that a lot of good centre-backs are coming. The age gap is not that much either. I can relate to the younger defenders a lot. So, it is easy to communicate because we have similar topics to talk about. I'm enjoying myself and credit to the boys, we are doing well and hopefully, we keep a lot of clean sheets. We have got some great goalkeepers at the back. In the end, it comes down to how you are as a unit.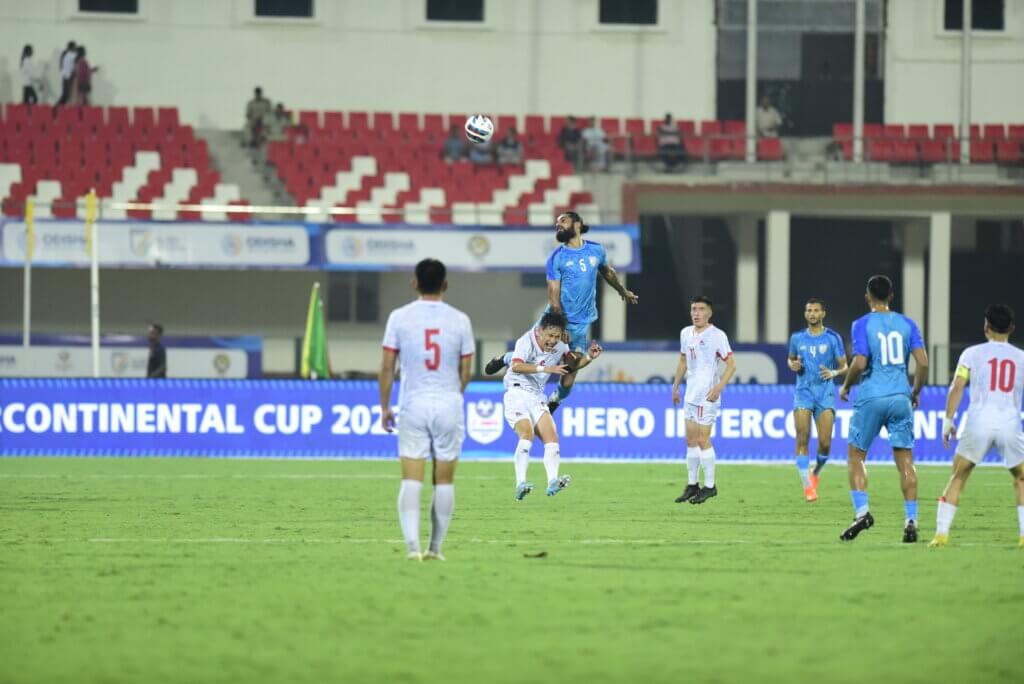 Q. How do you sum up India's first two games of the Hero Intercontinental Cup? You must be delighted with two clean sheets. But, overall, how do you look at how we've done so far? 
Jhingan: I think I'm really happy. The other day we were speaking on the pitch as a group. Whatever we're doing on the pitch is an exact carbon copy of how we are training. For me, as a student of this game, as a lover of this game, if you train something every day and if you can replicate it on the matchday I think it's a very beautiful thing to watch. Of course, it's always difficult because we all come from different clubs, different philosophies, different ways of playing and all. Then in the national camp, you need to straightaway get that camaraderie again and perform in the first game, so it takes some time.
But I think in the past two games, a lot of appreciation should go to the coaching staff. The way they've trained us in this camp, we showed improvement. The clear signal from us, the boys, is to improve with every game. Purely based on statistics I think our graph is going up. But we know the potential of our batch. I've said this since I've been part of the national camp in 2013 and made my debut in 2015, every time I've felt the batch getting stronger and stronger. We are realising the potential and achieving success as well. But the sky's the limit and we've just got to keep improving game by game.
Now, we have a tough game against Lebanon. All games are tough in modern football. Mongolia and Vanuatu really gave us a very tough time. It was one of the goals for us to stick to the system. It's always lovely to see when you implement it on the pitch and also see the things you need to improve. That's the whole point of being in a team. The ultimate goal is the Asian Cup. And I have a very good, happy and positive feeling about how it's going so far.
Q. What kind of challenge do you expect from Lebanon? 
Jhingan: Of course, it's going to be a tough game like every national team game, and Lebanon poses a different threat to what Mongolia and Vanuatu did. So, we have to tackle it tactically and energy-wise as well. But it's going to be a good game there. They are a good side and I think they are close to us in the ranking system as well.
They are also in the Asian Cup, so that will also give us an idea. In every game, our main target, as I said, is the Asian Cup, and you want to play these kinds of games against teams who are going to be in that tournament. They have very physical and technical players, and you enjoy a game against such opponents. We also have capable and technical players in our team. And then on game day, it's 11 vs 11. May the best team win.
Q. Strangely, you've never actually played in the SAFF Championship before. You missed out on the 2015 and 2021 editions we won. You were part of the squad in 2013 but didn't make an appearance. How special would it be to win your first SAFF title at a special stadium for you like the Kanteerava?
Jhingan: When we were kids, we always wanted to play the SAFF Cup. So, we are looking forward to it and of course, it is in Bengaluru. I had a great last season there. Kanteerava is a beautiful place. The fans are amazing. The atmosphere is great. Now we have got Lebanon and Kuwait also joining us and making the tournament much more competitive. So, I'm hoping to keep the trophy in India. That's our aim.
Q. You were part of the AFC Asian Cup in the UAE in 2019, which ended with the group stage exit for India. What do you think went wrong there and what do we need to do better as a side in Qatar next year?
Jhingan: I think of a lot of good rather than picking on the wrongs. I think I am more of a person who looks at a glass as half full rather than half empty, but keep in mind that it is still empty. I think we did well in 2019. From the whole qualifying system over the 16 games that we played. I think, more than the Bahrain game, we should have got the three points from the UAE game because we had enough chances. And then we let in silly goals.
Everyone just looks at the penalty (against Bahrain) and kind of put too much emphasis on that, but I think as senior boys of that batch, there were a lot of mistakes before that penalty. We should have handled the game much more maturely but that's how you gain experience. But what's gone is gone, and I think it was a good experience for us.
Me, as a part of this team, and as a professional footballer, I think our graph has gone up and we as a team have matured since then. It's the first time we've qualified for the Asian Cup consecutively, and we did it in such a solid way, topping the group in both instances.
The majority of us who were young kids back then in 2019 are now 28-29. So, we are getting to the right age, where you generally peak as a human being, and not just as a footballer. So, I'm optimistic about how we are going to go about in Qatar. Of course, we have a solid group, that's what you expect in the Asian Cup. If you are playing in the big tournaments, you can't expect any easy games. I'm very excited and I have so much, so much belief in this batch.
We just don't want to have any regrets when we return from there, regardless of whether we go to the final, lift the trophy or we get knocked out in the group stage with zero points. Whatever it is, we should leave an impact or a memory in our minds that we gave our best and we have no regrets when the tournament ends. It's always about perspective and how you look at it, and I prefer looking at the brighter side regardless of the situation. It gives you hope. I'm pretty optimistic. And God bless, I think we'll make our country proud.
Q. Lastly, any message for the Blue Tigers fans?
Jhingan: It always starts with a thank you. Personally, being part of the national team, I'm still a fan of the national team. That's how I fell in love with the sport. That's how I wanted to be a professional footballer. I always wanted to play for the country. So, I will always be a fan of the national team. I love Indian football. All the growth we have made from the day I made my debut at #173 to #96, has been as a whole as a country. So, wherever we are right now and we really will go, will be as a whole India, as 1.4 billion people.
Thanks for all the support, all the love and the right criticism when it's needed. Every healthy relationship needs praise and criticism. And whatever we do on the pitch, it's for the glory of this great nation. Regardless of the results, because they can always go up and down, one thing I can always assure is that the commitment will never go even a percent down.
Even if you have to bleed on the pitch or no matter what it takes. We know how much people love the sport here and how much they support us. We all are in this together and we should celebrate every victory, learn from every defeat and always stick together no matter what because we are in this as a family. 20, 30, 40 years down the line, when India is hopefully a superpower in football, you will tell your younger generations we were part of that journey. We were supporting them when it all started. They were playing and we made it all the way together by sticking together. So, it will be a lovely memory and some good banter to post about for the younger ones who are not even born yet.