Mohammedan SC, searching for their maiden I-League title, are up against Gokulam Kerala FC, who are aiming to become the first team in the Hero I-League era to defend their crown.
This virtual final of the 2021-22 season will take place at the majestic Vivekananda Yuba Bharati Krirangan in Kolkata at 7 PM. Follow this space for all live updates from the match.
Live Blog
FULLTIME!
Gokulam's win scripts history! They become the first team in I-League history to successfully defend their title. GKFC 2-1 MDSC
90+7′ Rakshit saves!
Rakshit makes a couple of saves before the ball goes over the bar. They still have to wait for the celebrations. GKFC 2-1 MDSC.
90+3′ Gokulam can smell history
Gokulam players are very confident on the ball, as they go for frequent counterattacks. GKFC 2-1 MDSC
90′ Added time
Six minutes added. Six minutes for Mohammedan to salvage something whereas on the other side, six minutes of wait for Gokulam. GKFC 2-1 MDSC
89′ Wide!
Beautiful ball in from the right-wing but Marcus misses a sitter. He would have scored that 9 times out of 10. GKFC 2-1 MDSC
87′ Corner
Alex Saji makes a beautiful block and clears the ball. But the ball roles out for a corner. GKFC 2-1 MDSC
85′ Wide!
Azharuddin does a Benzema on the sidelines and puts in a brilliant cross, but Buam slots it wide. GKFC 2-1 MDSC
82′ Scores still level
Gokulam headcoach gets a yellow card. He won't mind that though. GKFC 2-1 MDSC
74′ Close!
Marcus Joseph gets agonisingly close from the header. But it seems like not his day. GKFC 2-1 MDSC
71′ Yellow card
Jassim gets a booking. The resultant freekick doesn't yield anything. GKFC 2-1 MDSC
68′ Substitution
Buam comes on for Asheer Akhtar. GKFC 2-1 MDSC
67′ Shot
Rudovic catches the goalkeeper off-guard and shoots. But the shot goes wide from an acute angle. GKFC 2-1 MDSC
63′ Great Run
Faisal Ali with a great run down the right-hand side, skipping past 3 challenges. But, the last touch is heavy and Dagar collects. GKFC 2-1 MDSC
60′ Gokulam Leads!
Emil Benny scores right at the stroke of the hour mark. Luka Majcen releases an inch-perfect outside pass on the counter and Emil slots it right at the same spot where his teammate scored 10 minutes earlier. GKFC 2-1 MDSC
57′ GAME ON!!!
Marcus Joseph's freekick takes a deflection from the wall and the ball ends up into the back of the net. Game on! GKFC 1-1 MDSC
54′ Substitution
MDSC makes their first change as Azharuddin Mallick replaces Brandon. GKFC 1-0 MDSC
49′ GOOAAALL!
Rishad breaks in a counter-attack and a sudden burst of speed defeats the three defenders. The midfielder slots it past the keeper in the bottom corner. Gokulam leads! GKFC 1-0 MDSC
48′ Shot
Rudovic cuts inside and shoots from distance. Rakshit Dagar collects calmly. GKFC 0-0 MDSC
46′ Second half starts
Kickoff for the final 45 minutes. Wayne Vaz almost made a costly mistake. GKFC 0-0 MDSC
HALFTIME
Scores level at halftime. GKFC 0-0 MDSC
45+3′ Warning
Abdul Hakku gets warned by the referee for his frequent fouls. Still, no card shown. GKFC 0-0 MDSC
45′ Worrying signs
Fletcher taken off the pitch on a stretcher. Shreekuttan comes in. GKFC 0-0 MDSC
42′ Heart-stopping!
Fletcher collects the ball on a counter-attack and spots the Mohammedan keeper way off the line and shoots. Could have been an extraordinary finish but the shot ends up wide. GKFC 0-0 MDSC
40′ Shot!
Majcen receives a cross on his chest and shoots on the turn. The shot goes flying over the bar. GKFC 0-0 MDSC
38′ Stoppage
Abdul Hakku sits down as he feels some problem in his stomach. Game stopped temporarily. GKFC 0-0 MDSC
35′ Easing the pressure
Mohammedan SC slowing the pace of the game as they soak the pressure applied by Gokulam. Scores are still level. GKFC 0-0 MDSC
30′ Over
Joseph takes a shot from a tight angle, but goes over the bar. Time for a cooling break. GKFC 0-0 MDSC
28′ Close once again!
Rahaman with a brilliant ball in, but Marcus misses the header. Stojanovic collects the clearance and weaves some magic, but the attack dies down. GKFC 0-0 MDSC
25′ Close!
Marcus Joseph and Manoj Md. combine excellently in the box but fail to convert the chance as Gokulam clears. GKFC 0-0 MDSC
23′ Cross
Ball comes in from the right-wing, but goes over Marcus Joseph's head. Out for the throw-in. GKFC 0-0 MDSC
20′ Scores still level
Both teams haven't broken the deadlock yet. GKFC 0-0 MDSC
7′ Cleared
Alex Saaji with a great down the flanks. Wayne Vaz clears. GKFC 0-0 MDSC
6′ Shot
Luka Majcen with a long ranger, agonisingly wide. GKFC 0-0 MDSC
5′ Another freekick
This time for the home team. Marcus' shot didn't have the power. Goalkeeper saves. GKFC 0-0 MDSC
3′ Freekick!
Mohammedan SC clears comfortably. GKFC 0-0 MDSC
1′ Kickoff!
GKFC 0-0 MDSC
Starting lineups
Images: Via I-League official
Gokulam Kerala vs Mohammedan SC: Preview
Mohammedan coach Andrey Chernyshov always believed, even though Gokulam were a long way ahead with matches running out. "I told my players that this is football. Anybody can win or lose in a minute. We kept playing well and had good results. Now we have the chance to win the title and our fans in the city are excited about it."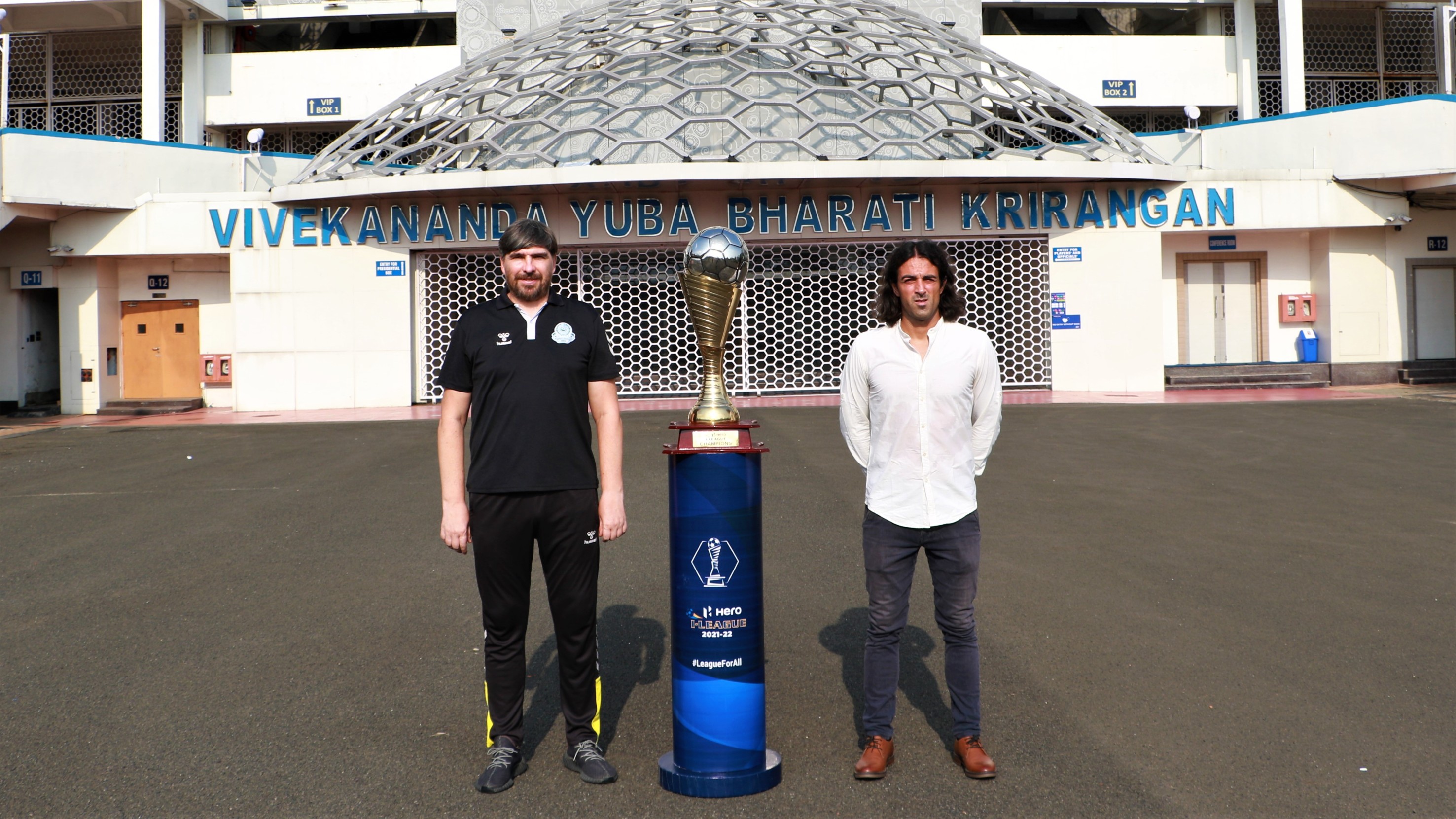 "It's good for Indian football. Two good teams will fight for the title," Chernyshov added.
Gokulam Kerala will not only be up against a resurgent Mohammedan side, but also against the home crowd. Coach Annese knows that going for a draw is not an option. "We've scored 42 goals so far. We play an attacking style and always go for the win. If we play to defend, with so many Mohammedan fans against us, we'll only invite pressure. We need to play for the win to kill their hopes," said the Italian.
Mohammedan coach Chernyshov is hoping to make the most of the Black and White Brigade support. "Of course it will be an advantage for us to have a big crowd behind us tomorrow. It's not an easy situation for Gokulam."
"We've been waiting for this match since July last year. It's going to be a big game and I hope the fans will enjoy good football tomorrow," Chernyshov concluded.
Live Streaming
The match will be streamed live on the Indian Football Team Facebook page.