In a season full of many ups and downs, Bengaluru FC unleashed a baby-faced assassin on the biggest stage of Indian football – Naorem Roshan Singh.
The Blues had a very poor start to their season. However, as the season progressed, they soon found their form back and went on to have a nine-match unbeaten streak. Just when they were thought to be in a good position to qualify for the playoffs. They lost their form and suffered heartbreaking losses.
However, Roshan remained consistent and won a very deserving emerging player of the season award. With multiple big performances under his belt, he soon got a call to represent the Blue Tigers. And has joined the squad scheduled to play a friendly against Jordan tomorrow.
Ahead of the Jordan fixture, in an exclusive interview with the Football Monk, the young Indian International, Roshan Singh spoke up close and personal.
Debut for Indian Football Team
Roshan made his national team debut on 23rd march. After coming on as a substitute in the second half, he left an instant impact and delivered a pinpoint cross for Rahul Bheke. The veteran defender made no mistake and scored the only goal for India in a 2-1 loss.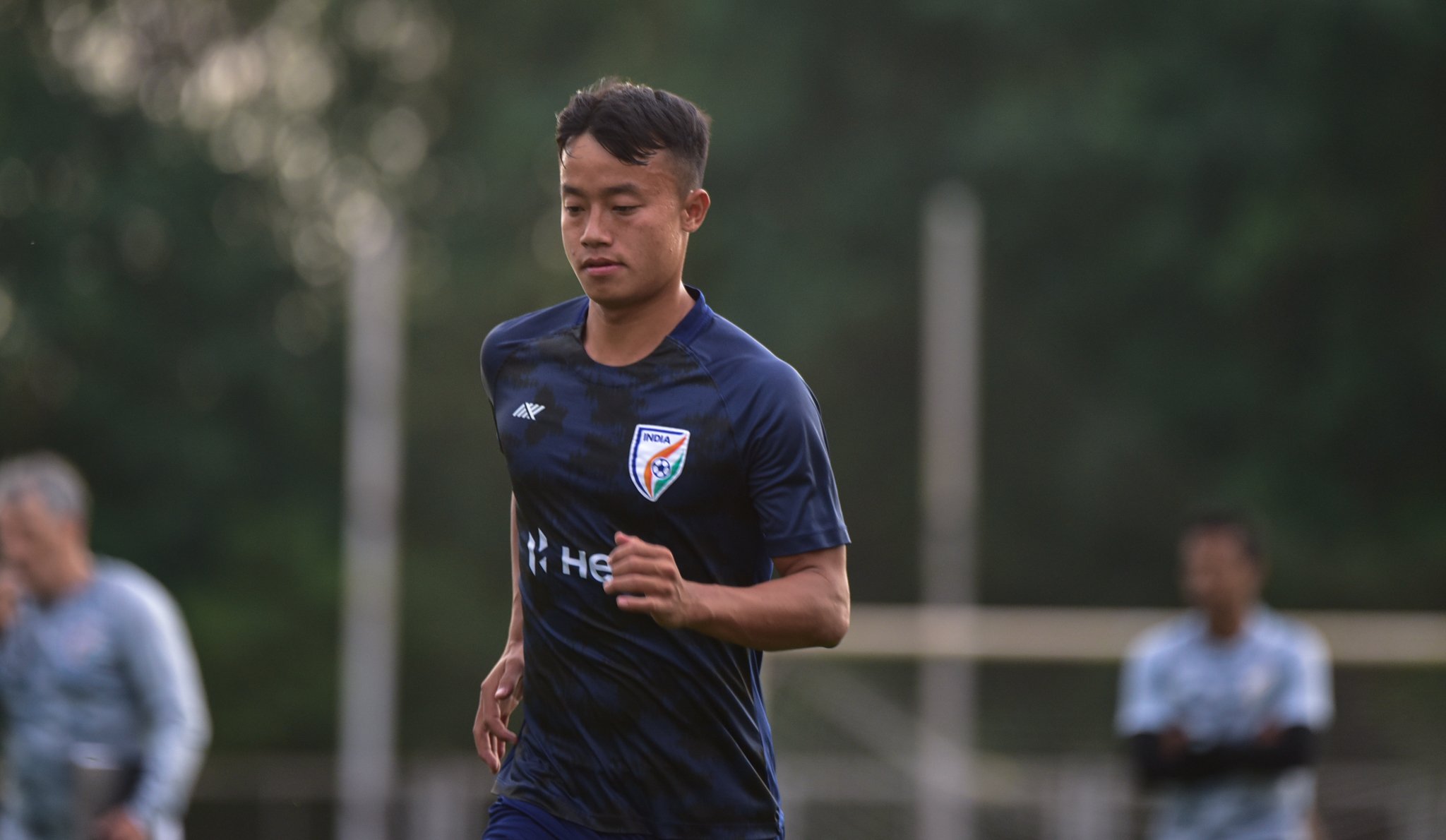 Having previously made his debut, Roshan has already got a taste of international football. While expressing his emotions, the defender quipped, "It was a massive learning for me and a proud moment to be part of the national team. There are so many things to learn here as it's a completely different experience than club football."
Evolved as a player at AIFF Elite Academy
The AIFF Elite Academy gave Roshan a big platform early on in his career. While recognizing the importance of it, he said, "Being part of AIFF Elie Academy provided me international exposure and gave me a great platform where I evolved as a player."
After graduating from AIFF Elite Academy, Roshan joined Bengaluru FC in 2017. He spent multiple years with their reserve team. Under Naushad Moosa's guidance, Naorem became a better version of himself and finally broke into the senior team.
"I learned a lot being part of the BFC reserve setup I grew as a player and person and all the staff including Coach Naushad Moosa was important to my development as a player," said Roshan.
How Roshan became Ambifooted
The recent ISL Emerging Player of the Season, Naorem has a very unique talent. As the fullback is adept at using both his feet. A true ambifooted player, Naorem can consistently deliver pinpoint crosses and can take dangerous set pieces with both his feet.
Quizzed about the advantages of this unique talent and how he cultured it. Naorem said, "It is good to be able to use both of your feet to get you out of the tricky situations or deliver things but still a lot I have to improve."
He further opined, "From a young age, I use to work with both feet to make my shooting and passing better."
A long way ahead in Indian Football
A good defender, better attacker, and one of the best set-piece takers in the country, Naorem is believed to be one of the most talented Indian players of recent time.
While he has already shown glimpses of his ability. He is yet to reach the peak of his career. Speaking about his aim, the youngster answered, "It's still a long way to go I don't want to predict anything. However, what I do know is that I will have to work hard and contribute to the team. And make sure we together achieve the target of reaching Asia Cup 2023″